Visit our Additive Manufacturing booth #E32, and Vacuum Bagging & Composite Tooling Materials booth #G39 in Hall 5, to discover our latest developments at JEC World 2022!
JEC World 2022 is taking shape and we are excited to showcase Print-Tech® - our Large Scale Additive Manufacturing service for composite tooling. Airtech's LSAM (5 Axis) printers with integrated machining capability can manufacture tooling up to 12m x 3m covering the full range of tooling applications:
molds,

form tools,

bond tools,

jigs,

fixtures.
Airtech's large scale tooling can be designed and built faster without compromising quality. It is the quickest way to achieve high-accuracy, high-performing tooling, while reducing wait time and cost.
High Performance Resins for Large Scale Additive Manufacturing
As Airtech continues to drive innovation, development, and testing in the additive manufacturing market, it has partnered with leading manufacturers of industrial large scale 3D printers​ like:
We will be presenting our full line of Dahltram® tooling resins and Dahlpram® purging compounds.
Visit us to see our latest developments and learn how we helped take high-performance Porsche vehicles from shop floor conception to race day reality using Airtech's Dahltram® range of resins and Print-Tech® 3D Print tooling service.
Ask us for a free visitor badge here. Looking forward to meeting you at JEC World!
The carbon composite body panels of these high-performance vehicles were made with 3D printed tooling, manufactured by BBi using Airtech's Print-Tech® tooling capabilities. Motorsport programs require rapid development cycles and, with Print-Tech®, these molds can be produced quicker than ever before. Airtech's in-stock inventory of Dahltram® resins enabled this complete tool package to be designed, printed, and delivered in 4 weeks - with parts ready for fitment in 5 weeks.
Save time with Combination products

Combo-Tech is our expanded product line that bonds various vacuum bagging materials together to form a better overall product and reduce "touch labor". Great labor savings can be achieved by having a combination of products that can be applied in one operation. Flowlease Orange has high-speed resin flow mesh and perforated release film developed specifically for infusion. Flowlease works well with polyester, vinyl ester, and epoxy resins. Any combination of peel ply, release film, breather, and flow mesh can be bonded together with a non-silicone adhesive and supplied in a variety of widths. Such a time saver!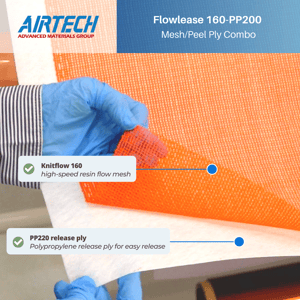 Latest innovations for the Resin Infusion Process

Airtech continues to develop products to simplify processes and shorten production time. Our new products such as fast infusion mesh, vacuum channels, or spray adhesive were developed to answer the needs our customers face. We are also able to provide super wide vacuum bagging film up to 16m to accelerate the production process.

See our new products in action during a live demo at our booth and visit our website to discover the full product range.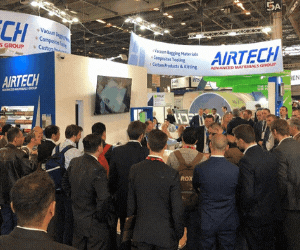 Prepreg Autoclave Molding

As a one-stop shop, Airtech is also a prepreg/ autoclave process products provider. Always aiming to reduce "touch labor", we have been creating new films and breathers to meet and exceed market expectations. From embossed films to high-performance release films or stretchable breather, Airtech offers you a full range of quality products providing many benefits. Discover them live at our booth or take a look inside our catalogue.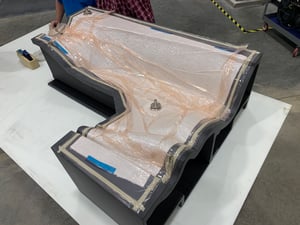 Our distribution partnership for OOA prepreg products with NEXX Technologies

Mitsubishi Gas Chemical America recently announced Airtech distribution for NEXX Technologies. We are the global distributor of Enduredge Max lines of modified epoxy prepregs fabrics and unidirectional tapes. The Enduredge Max portfolio of modified epoxy prepregs offers performance and processing characteristics suitable for aerospace, space, Radomes and defence. These advanced materials boast extended out-time and excellent vacuum bag only processing. They do not require freezer storage and can be stored at room temperature for up to a year without any changes in rheology or processing conditions.